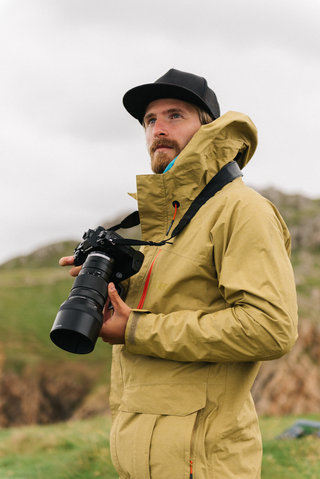 Hey everyone and welcome to my website!
My name is Nicolas Armer and I'm a 31-year young photographer from Bavaria, Germany. I'm an
Red Bull Illume
Category Finalist and also an ambassador for
MindShift Gear
and
Kingston Technology
.
Photography to me is pure magic. Being able to control the time just like you want to simply never gets boring. The neverending chase for the ideal moment, the long waiting hours for the perfect light … the endless hours spent in the most beautiful environment there is: nature.
Since my childhood days, I feel magically drawn to nature.
Therefore my favorite things to photograph are: outdoor, adventure, nature, landscapes but also reportages.
Before I started my career as a photographer I worked at a Survival-School in Austria and served four years in the German military.
Whenever I'm not taking photos I like to spend my time with shooting my bow, stand up paddling, kayaking, hiking, bushcrafting and fishing. In addition to my nature activities I'm also a huge fitness lover – working out daily is a must for me.
So in case you got interested in working with me or buying one of my photos for a personal print – just drop me an e-mail or give me call.
Thanks for reading this, have a great day!
Nic
Favorite Music
: anything that has a positive vibe
Favorite countries
: 1) Germany, 2) United States of America, 3) Sweden
Personal Idols
: my family, Rich Froning, Ray Mears,
Most awe-inspiring Moments
: seeing the Northern lights for the first time but basically every day in nature is beautiful
Favorite colors
: blue, red
Personal mantra
: "Be grateful. Be courageous. Be yourself."
Lifetime goals
: 1) start an own company
2) Bowhunting all across the world
3) Husky sledding under the northern lights
4) flyfishing in Alaska
5) to own a nice property right next to a lovely lake or river. Rounded up with
a guesthouse for the friends, a big garden for a big dog and a garage for a workshop.
6) to give lectures and publish photo books about adventures & expeditions
7) to give something back to nature
8) to always be grateful for the beauty of life
9) and most important: I want to find inside myself the person that I am supposed to be